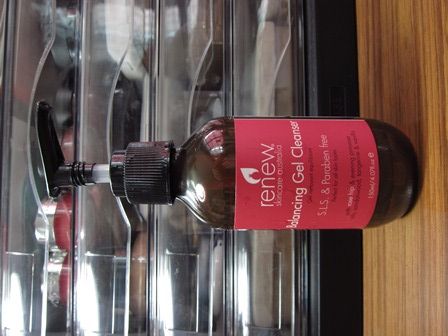 Recently I've finished using a cleanser that I've repurchased - Renew Balancing Gel Cleanser. My skin had been terribly clogged and congested for months and this cleanser played a part in helping to rebalance my skin. I'm happy to say that now my skin is getting much better! There's still a long way to go because while I don't have so many clogged pores now, they have left quite a few scars/red marks on my face.
Anyway, I've
reviewed products from Renew before
, and absolutely loved them. I love this gel cleanser too! It is similar to
Sukin Foaming Facial Cleanser
, because I believe Renew and Sukin are related companies. It's also similar to
Avalon Organics Lavender Cleansing Gel
. This is SLS and paraben-free, and it's low-foaming, so if you're not used to such a low-foaming formula, you might be a little annoyed. I love it, it feels gentle on my skin and it doesn't strip skin of moisture. This Renew cleanser has a light tangerine/vanilla scent which is less complex than Sukin's delicious fragrance. Sukin smells better, but Renew seems to cleanse better - Sukin seems to leave a little layer of film on my skin after cleansing (essential oil, perhaps) but Renew rinses clean, such that I have the option of not using toner after. Between the two, I think Renew is more suited for oily skin. I love that this cleanser is inexpensive and made of natural ingredients, plus there are always periodic sales for Renew and Sukin at the drugstore.
Ingredients: Aqua, organic german chamomile, organic aloe vera, organic witch hazel, organic green tea, decyl glucoside (vegetable), cocomidopropyl betaine (vegetable), PEG-150 pentaerythrityl tetrastearate (vegetable), glycerin (vegetable), sodium chloride, sodium hydroxymethylglycinate (vegetable), citric acid (pH balance), grapefruit seed extract, phenoxyethanol, macadamia seed oil, organic rosehip oil, evening primrose oil, Australian sandalwood oil, tangerine essential oil, vanilla extract
In short - the price is right for an awesome product. :)
Rating: 10/10
--------
On Friday, I went to the Singapore Night Festival. Some museums were open for free to the public, there were light shows and exhibitions and a busking competition.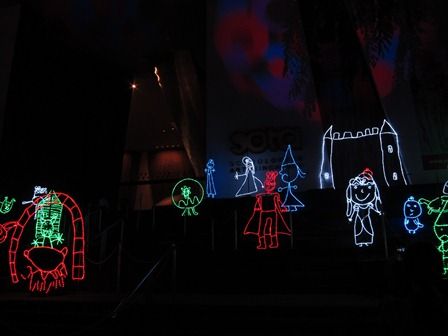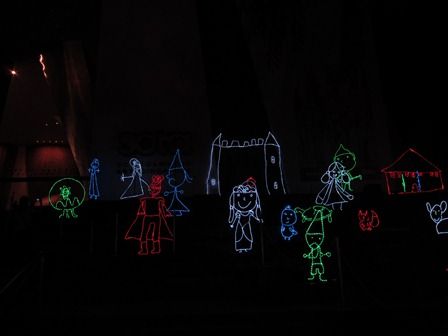 This was a cute exhibit of lighted doodles on the steps of SOTA (School of the Arts). I always feel a little wistful when I walk past SOTA because it opened after I went to university. SOTA starts from the high-school level, so it would have been nice if it was an option for me when I was in high school. Then again, though I have always been the artsy and weird one among my friends, I have also always been very practical in my choices...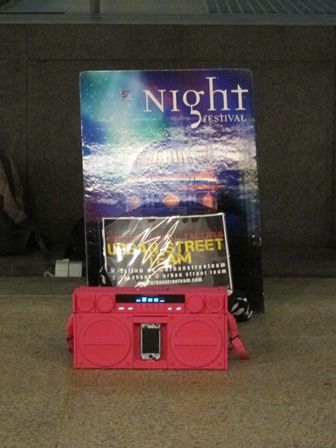 One of the street dancers had a hot pink boombox. I LOVE IT!!!!! Does anyone know where I can get one???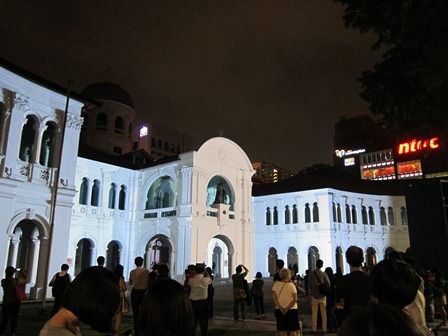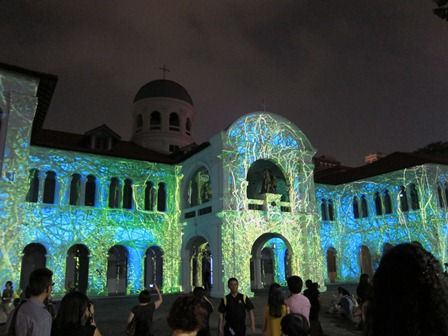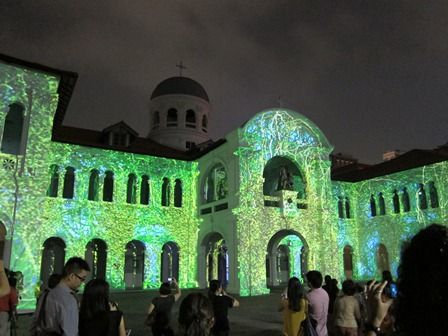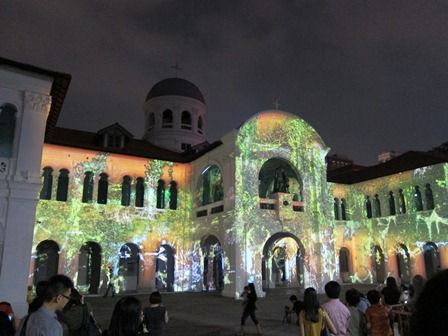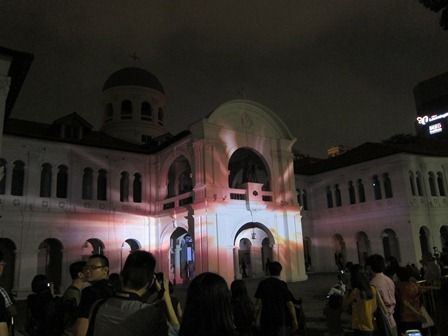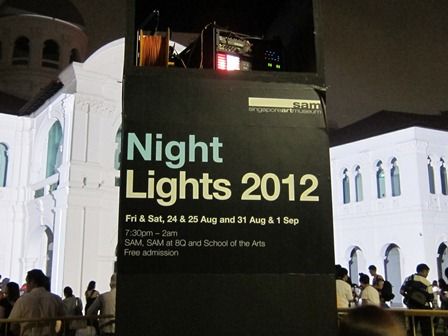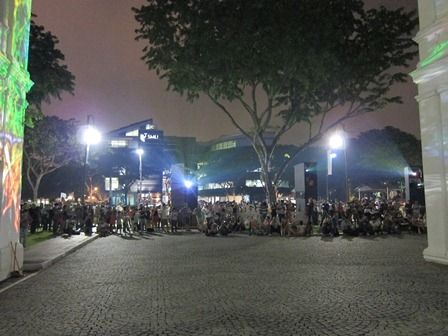 There was the Night Lights show at the Singapore Art Museum. Some nature theme, with vines, birds, fire... Pretty cool, but I thought last year's was cuter! Last year's, the building looked like it was hip-hoppin'. Ha!
haunted
, my friends were all creeped out but I said "Hey this looks like a good spot to take a wedding photo..." Doesn't it??
things
sitting on a bench outside the museum. I don't know what they're supposed to represent really. It's the 7th month right now (for the Chinese, it's the Hungry Ghost festival when the gates of Hell open and the ghosts are free to roam for a month), so it's really quite creepy.
Well it was a nice experience and I was pleasantly surprised to see so many Singaporeans out and about the museums. (Usually I think, we stay in the shopping belt?) I really enjoyed the atmosphere. Till next time then~