Well hello! Finally I blog again. Things have changed since my last post. My skin is terrible right now (acne flare-ups) so I'll be reviewing lots of acne products and I'm blogging to keep track of what works and what doesn't. I changed jobs a month ago (long working hours and stress at my previous job made my skin flare up) so I'm hoping my skin gets better! -crosses fingers-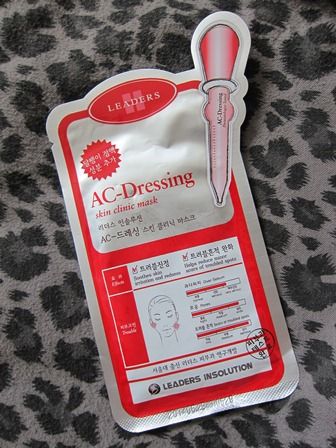 So my sister introduced me to this Korean brand, Leader's Insolution. This is the AC Dressing mask, it's for acne-prone skin. I think it costs about S$3, which is more expensive than My Beauty Diary masks, but it's still really affordable and I think it's much better quality than My Beauty Diary!
The mask is made of silk cellulose, so it feels really soft and adheres perfectly to my skin (no weird folds), much better than MBD. The mask liquid feels slimey (perhaps because of the snail secretion filtrate?) but really moisturizing. And this mask really helps calm my zits down and makes my pores smaller, and moisturizes well at the same time. I do find a noticeable improvement in oil control the next day after I use this mask.
The ingredients: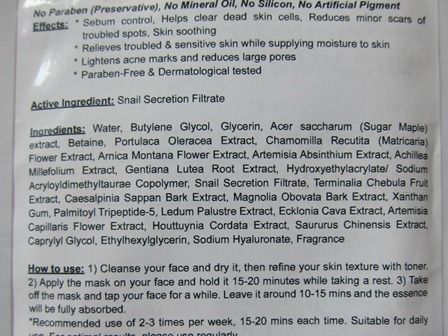 I like the ingredients - the familiar ones that work for me are chamomile and arnica montana (really calms skin down). It contains lots of natural plant extracts, not like other masks with weird chemical ingredients. And while the snail secretion filtrate sounds gimmicky, I actually like the slimey feel of the liquid because it feels like it protects my skin.
Overall? A must-buy. I heard that stocks run low all the time and restocking of Leader's Insolution is really slow, so if you see it on the shelves, grab it!
Rating: 10/10