I got this bottle of Eucerin DermatoClean Refreshing Cleansing Gel for free with a purchase of Aquaporin moisturizer. It was an absolute lifesaver when I was suffering from painful cystic acne, because this was so gentle on my skin, yet cleansed well. I've really fallen in love with this cleanser - even though it's simple and no-frills, I can't live without it!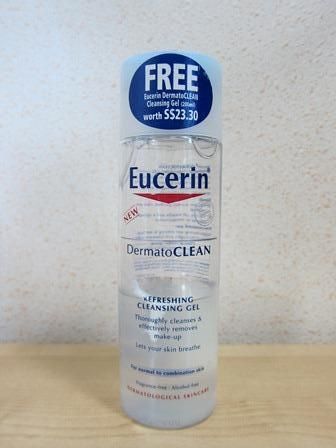 Like most of my favourite gel cleansers, it uses less irritating surfactants/foaming agents like Cocomidopropyl Betaine and Decyl Glucoside, which means it foams less easily than conventional gel cleansers, but you can still foam it up nicely and the foam is very fine and moisturizing. And because this also contains Sodium Hyaluronic, it's moisturizing enough for sensitive acne-prone skin, yet feels light and cleanses well without stripping. And the squeeze bottle with the press-cap is so functional and easy to use.
Though it looks very plain, like a no-frills, simple cleanser, I feel like I'm pampering my skin when I use it. My skin feels instantly soothed and softened. An absolute joy!
Ingredients: Aqua, Glycerin, Cocomidopropyl Betaine, Decyl Glucoside, Glyceryl Glucoside, Sodium Hyaluronate, Hydroxypropyl Starch Phosphate, Acrylates C10-30 Alkyl Acrylate Crosspolymer, Sodium Chloride, Phenoxyethanol, 1,2-Hexanediol, Methylparaben, Propylparaben
Rating: 10/10
I totally recommend this!