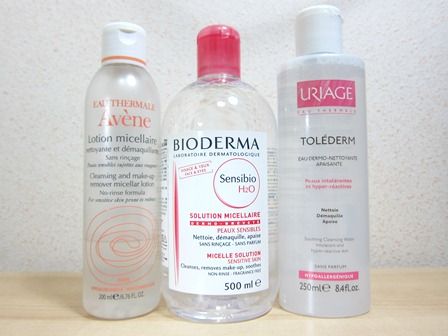 After skin started breaking out really badly due to stress, one of the major skincare changes I made was to switch my make-up remover from oil cleansers to cleansing water. They're really light and feel just like water, and they're very gentle on painful cystic acne bumps. Micellar solutions can be used as a toner as well, but I've only used them to remove make-up. So far I've tried 3 brands - Avene, Bioderma and Uriage.
Avene Micellar Lotion
This comes in a 200ml bottle (I believe it comes in 400ml as well, but I haven't seen it around), which I purchased for about S$26 after a 30% discount. It lasts me about a month with daily use. The fragrance is quite strong and smells like an expensive face cream. I find Avene's micellar lotion the most gentle of the three, and leaves my skin feeling the softest, I think because it's the only one of the three that contains sodium hyaluronate. If the lotion accidentally gets into my eyes, it doesn't sting too much.
Ingredients: Avene Thermal Spring Water, Cocamidopropyl Betainamide Mea Chloride, Poloxamer 188, Bisabolol, Fragrance, Peg/Ppg-14/14 Dimethicone, Sodium Chloride, Sodium Hyaluronate, Trisodium Edta.
Rating: 9/10
Bioderma Sensibio H2O
This comes in various sizes. I bought the 500ml bottle in Taiwan for about S$40 on sale. It's fragrance free and smells like saline. I find the Bioderma is the best at removing makeup as compared to the others. However, it stings if it gets into my eyes.
Ingredients: water (aqua), peg-6 caprylic/capric glycerides, propylene glycol, cucumis sativus (cucumber) fruit extract, mannitol, xylitol, rhamnose, fructooligosaccharides, disodium edta, cetrimonium bromide.
Uriage Tolederm Soothing Cleansing Water
This comes in a 250ml bottle, which I purchased for about S$30. This isn't actually a micellar cleanser, it's just a regular cleansing water. (
The Beauty Brains
explains what micellar water is. I think the difference between micellar water and regular cleansing water is that micellar water is more gentle while cleansing water might contain harsher surfactants.) Uriage does make a micellar solution too, but I bought this cleansing water accidentally instead. It smells a little yeasty, like beer. I find that this doesn't clean as well as Avene or Bioderma. This also stings if it gets into my eyes.
Ingredients: Water (Aqua), Uriage Thermal Spring Water, Glycerin, Poloxamer 184, Phenoxyethanol, PEG-80 Glyceryl Cocoate, Cetrimonium Bromide, Citric Acid, Polyaminopropyl Biguanide
Rating: 8/10
I did a little experiment on the cleansing power - I swatched black pencil eyeliner (Urban Decay Perversion), Majolica Majorca Lash Expander Frame Plus mascara and Ettusais BB cream on my arm and tried to remove them. I used just one cotton pad. (Usually for light base make-up and no mascara, I use 2 cotton pads for my whole face.)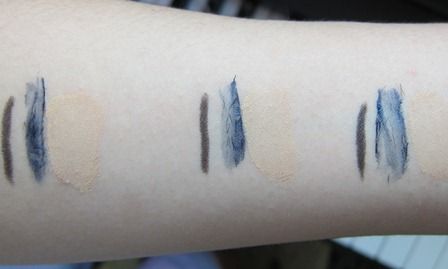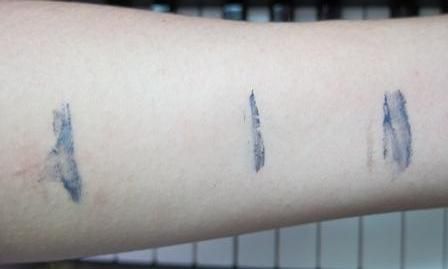 From left: Avene Micellar Lotion, Bioderma Sensibio H2O, Uriage Tolederm
As you can see, Bioderma has the best cleansing power, followed by Avene, then Uriage. All three don't remove the Majolica Majorca mascara easily. (However, Majolica Majorca mascara is really tough to remove, even with regular make-up removers.) They're all quite comparable in price and effectiveness.
Personally I will stick with Bioderma because I'm more cost-conscious, but I would choose Avene if it was more affordable. Micellar waters are pretty expensive really, and are more expensive in Singapore. I think I will stock up when I go overseas - there are bundled promotions in Taiwan drugstores, especially in summer, when people want to use lighter cleansing waters in the hot weather.
Summary:
Most value-for-money: Bioderma
Best for sensitive skin: Avene
Best make-up remover: Bioderma