This post is on random food and things that I saw in Beijing. After we checked into our hotel, we immediately took a cab to the city and went to Wang Fu Jing, a famous shopping street. This is the Wang Fu Jing snack street. The food looks really delicious but it doesn't taste that nice. (I tried some of the pan-fried dumplings - kind of tasteless. The meat kebabs taste very gamey.) They sell stuff like meat kebabs, fried scorpions and yoghurt drinks.
The scorpions were still alive. They will be deep-fried on the spot. They move if you get close to them!
"Pissing beef balls" - it means that they're very juicy. -_-U
We had a roast duck dinner at a famous restaurant called Quan Ju De in Wang Fu Jing, however, it didn't taste very nice. The skin was very fatty and not very crispy. After that we heard from the locals that though famous, Quan Ju De has become too commercialised, like fast food. There are other nicer shops that sell roast duck that is crispy and flavorful, but I can't remember where. Anyway, we ordered half a duck and they actually gave us half the duck's head (below) as well. Very literal!
We had meals at Fucheng hotpot restaurant twice. Fucheng is a huge company that sells beef and anything related to cows. The locals said that the owner started out with only 6 cows, but managed to build his tiny farm into an empire. Impressive. However, the hotpot restaurant was pretty expensive by local standards. There's another Beijing chain, "Hai Di Lau" which is cheaper and provides pretty cool service, such as manicures while you wait. Pity I didn't get to try it.
In general I think the food in Beijing is a lot oilier and saltier than in Singapore. I went to a Pepper Lunch at the Beijing Raffles City mall and ordered a beef plate. The beef in Beijing had a lot of fat - someone told me it's because the cows are kept in crowded conditions and aren't able to move or exercise. The Fucheng beef was good though.
I went to a Starbucks at Sanlitun. I was surprised that there was a long queue, because it must be really expensive for Beijingers! (Same price as Singapore.) I ordered an apple tea latte but felt very cheated because it was just English Breakfast Tea (from a tea bag, no less) with apple syrup on top. The funniest thing was, we spotted a guy (nicely style) camwhoring alone at one of the Starbucks counters. He camwhored for a good 15 minutes! He looked a bit embarrassed when he realised we were looking at him though, lol. Then again, there really are a lot of good looking people in Sanlitun. I think young people go there to see and be seen.
This is Flamme (not a typo), a steakhouse that a client introduced to us. It serves awesome steak. We went there twice and both times I got the cheapest *heh* steak for 98 yuan. Cocktails are cheap (1-for-1) during happy hour, but expensive (same as Singapore) at regular price. You really can't go too wrong with beef in Beijing. We don't really order fish though, because I think Beijing is landlocked, and the fish isn't too fresh.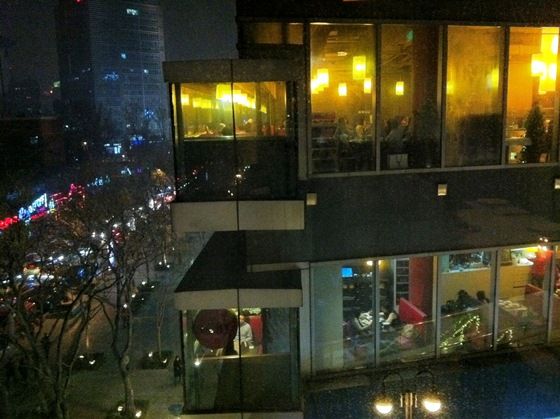 The view from Flamme - pretty!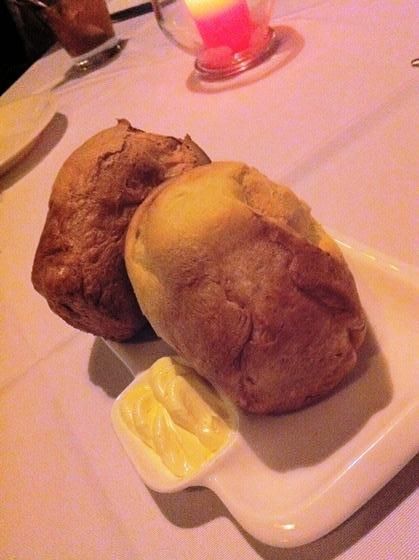 Bread rolls with cream - they're crispy outside with fluffy empty insides, and taste kinda like Beard Papa cream puffs.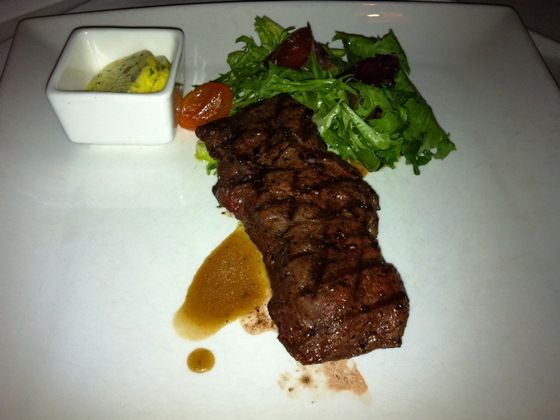 Steak with herb butter.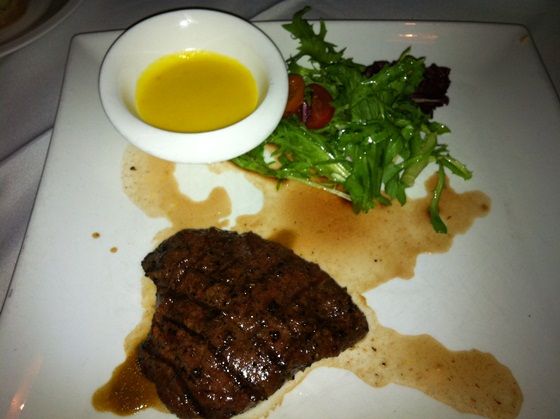 Steak with horseradish hollandaise sauce.
Oh wow my stomach is growling just looking at the photos, the steak was that good! We also had wedges with 1001 island sauce (yummy) and creamed spinach (too creamy). I thought the vegetable casserole was really good (cheesy). It's so good! However, it is probably rather expensive for a regular Beijinger.
We had hotpot at a small restaurant near our hotel. It came in a cute metal hotpot with coals burning inside! I've never seen one of those before, because in Singapore we all use electric ones. Interesting! However, the ricecakes sucked. They were straight from the package and absolutely disgusting, like tasteless chewy plastic.
The rice was cool - it came in a clay bowl (that was very hot to the touch).
We went to a Mongolian restaurant for dinner one night. There were 3 "yurts" outside and each yurt can seat probably 20 people. The lazy susan was automatic and you can adjust the speed and direction. (A lot of Chinese restaurants with huge banquet tables have that!) It was really pretty and a unique experience. However, the food wasn't too impressive.
We don't just eat lavish meals all the time. Lunch every day is a very simple affair. The food is not very good at the canteen and even meat dishes contain very little meat. For example, when I order scrambled egg, the dish is 70% onions and 30% egg. I guess it's because meat is more expensive. The photo below is of a packed lunch. I thought it looked cute. It tasted a lot better than the canteen food.
This is a customer survey form I found at Pepper Lunch. Under "Other Suggestions", the guy wrote, "Please hire more pretty ladies". LOL.
Yeap that's pretty much all I have for Beijing! It was a great trip. :D I bought a tonne of Pocky and Glico biscuits back home, I will be reviewing all the flavours soon! Nom-nom.