Ok I'm just going to post up my remaining Beijing photos in this and the next post, then I can resume with my regular posts. I'm a total procrastinator when it comes to posting up travel photos and recently I really want to blog about the new beauty stuff I've been using but I hate doing things not in chronological order... I'm weird like that... Anyway photos here! This is of a Saturday day trip to the Great Wall of China, Badaling portion.
This was taken at the carpark. 5 of us rented a huge MPV (it could seat 8 passengers) plus driver for 1,000 yuan for the day. The restrooms at the carpark area were quite bad (no lock on the door, smallest trickle of water from the tap), but bearable. There were a lot of Mainland China tourists (from all parts of China) and some of them are not from the city areas, so they don't queue. However, this was the worst restroom I'd been to, so restrooms in China aren't that bad!
It actually snowed when we were on the Great Wall, which is pretty rare! (If it snows heavily, the wall will be closed.) The winter scenery looks so bleak and lonely but peaceful.
Spotted a cute camel at the carpark. I love its big eyes! It looks like it came out of a cartoon.
After the Great Wall, we went to the Ming Tombs. There's 13 of them, but we only went to one (Dingling). I didn't post any photos of the inside of the underground tomb (it's pretty boring) but I thought it was really amazing that such a huge tomb was built so beautifully and it was used as... a tomb. It was just sealed up for centuries and it was only after excavation that we can now marvel at the architecture.
I love all the old trees in Beijing. They're so beautiful.
After Ming Tombs, we went to Hou Hai. It's a bar street, but there's also a little hutong area nearby.
The locals were laughing as we took this photo. "They've never seen a 蹦蹦车 (beng beng che) before?!" It's like a tuk-tuk in Thailand. It's cheaper than a taxi but it can seat at most 2 petite passengers.
The hutong was an alleyway with old homes, old clothes hanging outside. It was quite dusty as there was construction going on. There was not much to see really, but I've read a lot about vanishing hutongs so I wanted to take a look. There are signs along the hutong asking tourists to be quiet and not disturb the residents. It's apparently a preserved area. From the laundry hanging outside, it seems like the people who live there aren't very well-to-do, but I could also see huge cars parked at the alleys. There's always this stark juxtaposition of rich and poor in Beijing.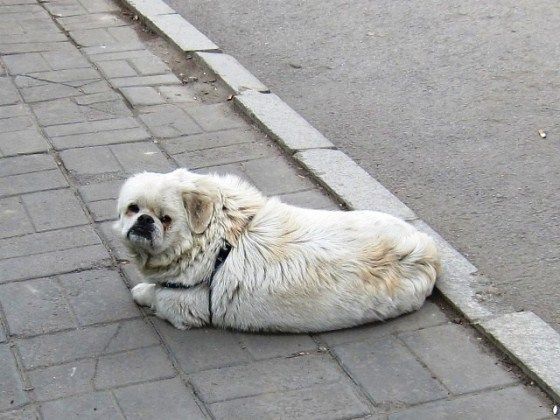 "Watcha lookin' at!"
I will try to post up my remaining Beijing photos by tomorrow and resume my regular posts before I fly off again next month!