I admit, I am a hoarder. I have things that I bought years ago that I haven't even worn or used yet. The things I love, I wear them to death. It's time to let go and taking photographs makes it a lot easier! When something works, I want to remember how it looks like so that I can look out for similar items. The following items have either been dumped, given to charity or will be soon and I want tor remember them! -heart-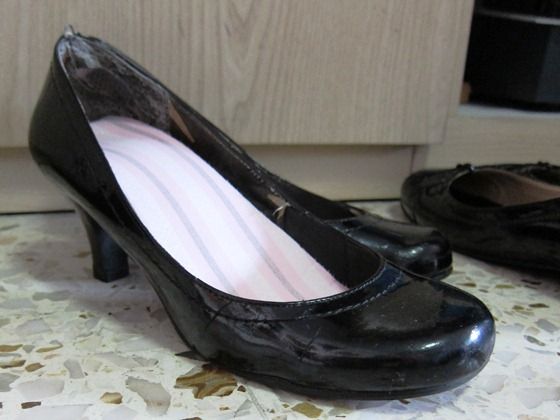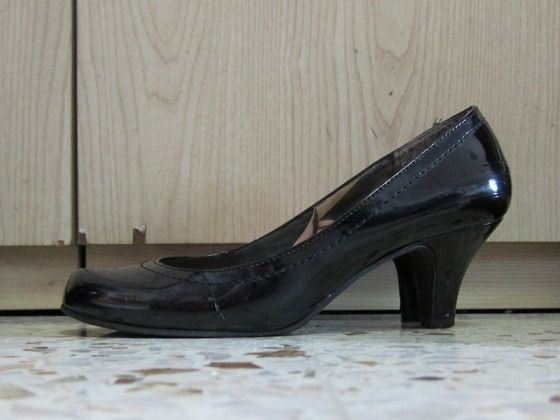 Madden Girl black patent pumps
I bought these Madden Girl round-toe pumps at a TJMaxx at a great price. I love the round toe - it's so hard to find cute round-toe pumps these days. And the short heel is just the right height - so easy and comfortable to walk in. The combination of the cute round toe and the short heel makes it look a little demure and vintage. I would kill to buy another pair but I can't find it anywhere!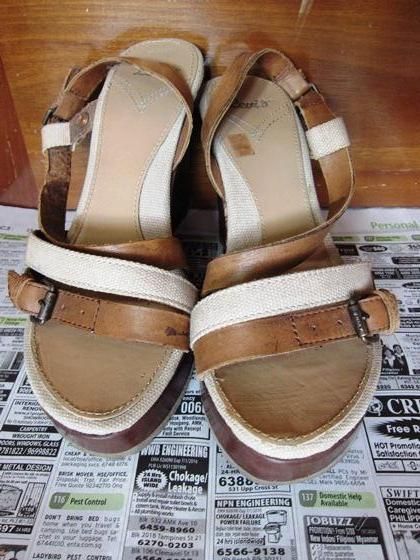 Levi's leather strap wedges
I bought these leather wedges from Levi's for $99 after I got paid for an internship 4 years ago. They are so gorgeous, I love the height (I think it's more than 4 inches) and I love the leather. It pairs really well with flowery dresses or maxi dresses. Even though it's a really tall heel, it's very comfy and stable.
Black pants - Wynn (no-brand)
I bought this pair of skinny pants in Malaysia for about $30. The material isn't that fantastic but I love that it's a true skinny fit (so hard to find skinny fit pants that look truly skinny on me because I'm thin and some skinny pants look baggy on me). And I like the design on the waistband, which makes it different from other boring black pants. I'm actually passing this to a seamstress to tailor a new pair with better fabric. Hope it works!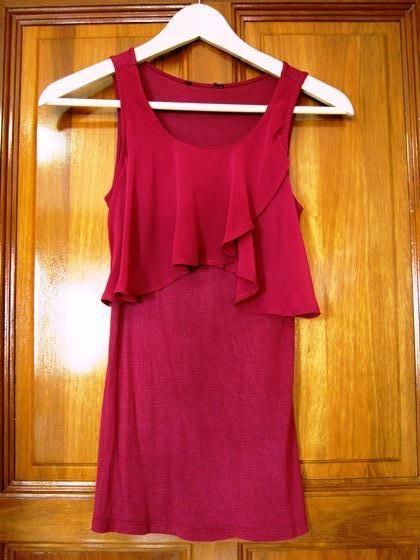 Warehouse tank
This is a tank top I bought from Warehouse. I love the colour - it's a deep mulberry and reminds me of a mulberry-coloured leotard that I used to wear for ballet. It's stretchy jersey material and the flowy draping in front is made of chiffon. It's really lovely and the flowy design at the chest is really flattering for skinny, flat-chested people like me. I'm trying to wear this less so that it lasts longer because I really love it.
Forever21 black chiffon skirt
I bought this 3 years ago at a Forever21 in the US. I've worn it to death! I match this all the time with the Warehouse tank above. It's a nice, simple and feminine style that I've received lots of compliments on in the office, and it's super easy to match. It's different from the regular work skirts that others wear. I would kill to repurchase this again too!
Ruffle chiffon dress (no-brand)
I bought this dress at a wholesale place, either in Hong Kong or Shenzhen (I forgot). It's chiffon, a material I love! (Chiffon can be a pain to iron though.) Chiffon is such a great material in Singapore's hot and humid weather, and it's office appropriate but looks softer and is a more interesting/feminine option to regular workwear.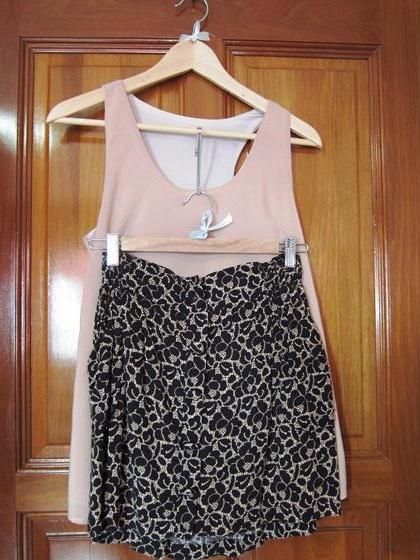 Agneselle reversible tank, CottonOn lace-print skirt
The Agneselle reversible tank is fantastic for Singapore - it's cooling in the hot weather, and when I'm clumsy and spill things on myself, I just head to the restroom and wear it inside-out! My friends are always amazed by it. :) The Cotton-on lace skirt is really comfortable (though a little translucent in Singapore's bright sunlight) and matches with all my cream/nude tops.
Forever21 ruffled lace skirt
I bought this ruffled lace skirt for my "Back2School" Dinner and Dance in 2011 (photos
here
). That period of time was when I dyed my hair brown and I started buying all these nude/cream colours to match. It's a size S but it's a little too big for me so it'll be going in the charity bag!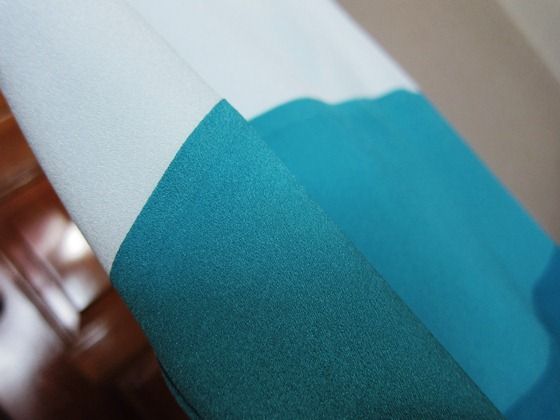 GG>5 tri-colour tanks
I bought these GG>5 tri-colour tanks late last year and I love them! Basically I love GG>5 - I would describe it as slightly pricey high-street for more high-flying corporate types. They're pricey and a lot of the materials they use are dry-clean only, which is so annoying, but the designs are really lovely so I forgive them. :)
These tanks are dry-clean only as well. I actually have a lot of dry-clean only clothes, but I handwash them on weekends using delicate fabric wash. It works ok, but sometimes dry-clean only clothes might wrinkle at the seams. (Looking good is so hard - I waste a lot of my life hand-washing my dry-clean only clothes. BOO.)
The fabric is really pretty though - I took close-up shots because I love the way the fabric has a lovely texture and sheen which gives a very elegant "Asian" look.
Editor's Market - cream faux-leather bag
I love how this bag looks fat and slightly slouchy at the sides. The gold ring is really nice too and I love the cream (it matches with the cream/nude thing I have going right now). The handles are longer than regular handbags but it looks and feels right! It got dirty easily so I gave it away. I bought it at the Editor's Market for >$30 but I've heard that such bags can be bought in Thailand for as little as $8! -screams-
That's all for now! I actually donated a huge paperbag full of clothes recently (never worn with tags still on, such a waste but I'll never wear them anyway) because my wardrobe was exploding and I had no space to store my winterwear. I'm currently on a mission to replace my wardrobe and to reorganise my clothes. I'm really hoping to pare down my collection and keep things that I truly love and can mix and match well.
Let's see how it goes! :)