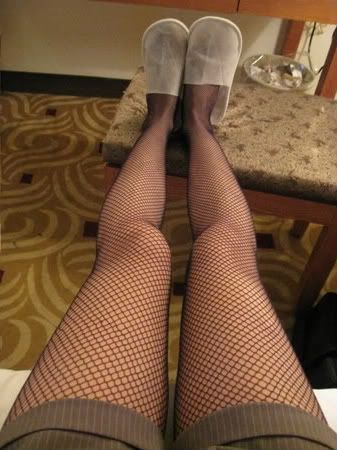 Like Su said, I took the opportunity to wear something I'd hardly wear in Singapore.
Tracy's apple milk! Not bad.
Basically no photos of our morning and afternoon because we went to Taipei Main Station's underground mall (台北車站) which wasn't that great, I think we missed some parts because it's huge! There's a front station that sells wholesale jewellery but we didn't manage to see it cos we were going to Wufenpu again. And Wufenpu = lots of shopping, no pictures. :D
I forgot if I mentioned this, but if in Taiwan, drink
Grapefruit Green Tea
. And when getting drinks from bubble tea shops, ask for less sugar. They have an entire scale of sugariness in Chinese but I kind of forgot. :P
Ding Tea
has a scale though. It tastes the best, imo.
Shihlin Night Market! "The Boss is Mad", she's selling 3 for 500NT only! Still, many of the things sold here are cheaper at Wufenpu, so we didn't buy much.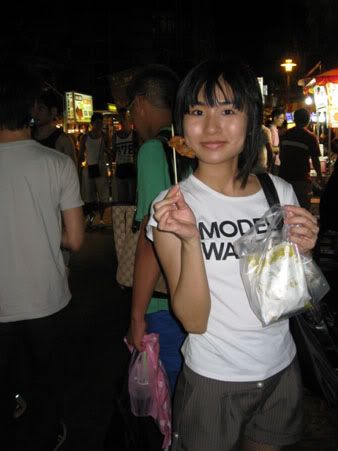 Me with Shihlin fried chicken or whatever that's called. It's merely so-so. Tried Tracy's smelly tofu also, it seriously stinks when you walk past the stall, smells like a sewer! But it tasted ok to me, but may it's because Tracy says it's not as authentic or smelly or whatever.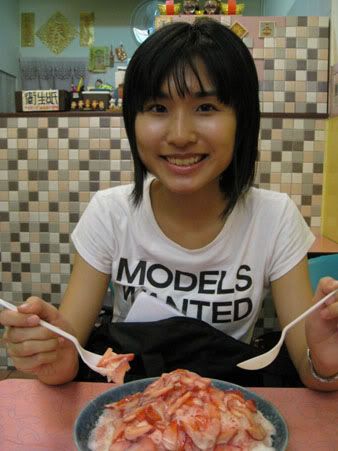 We had strawberry 冰沙, which is sliced strawberry over shaved ice with condensed milk and strawberry milk. Really nice, but with the tiny slices, I bet they only used a few strawberries. :P I want to try Mango shaved ice next time!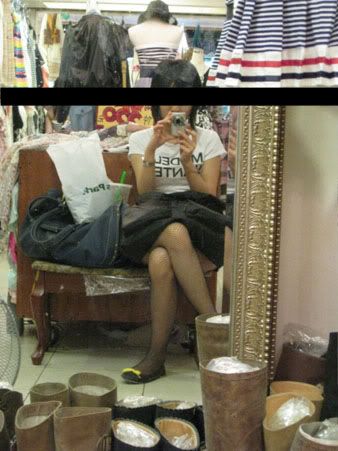 We did quite a lot of shopping so here I am totally drained waiting for Tracy while she tried on long flowy dresses! According to her, they're cheaper here!
Masks I bought from Taipei Main Station - if I ever get sick in Singapore I'll be wearing them to spread the mask-wearing message. I hate it that Singaporeans don't wear masks when they're sick, because I get sick easily and when I meet people like that, they never fail to pass their germs to me and make me sick. GRR.
Keds shoes from Taipei Main Station!!! I think they're factory overruns. The stupid auntie sold me a display pair of Eleanors and I was stupid cos I forgot to check! You can see the light blue pair, one side is more faded than the other. -sobs- Oh well, it was quite cheap for a pair of Keds and it was my fault anyway for not checking. :(
I must say I'm very thankful we had quite a smooth trip. These days, the Taiwan typhoon situation is all over the news!!! With the hotel collapsing, floods everywhere... The day before we went, there was actually a typhoon warning for the previous evening! But that meant we were safe cos the first 2 typhoons of the season were over. And throughout our stay, it was sunny skies and no rain, except on the last day. Lucky for us! Thank heavens we didn't get caught in the typhoon.
Next up, Day 6 - Wulai!